Early Literacy Professional Learning Grant

Background Information
The Early Literacy Professional Learning Grant was awarded to MAISA in September 2016. The grant is designed to work with Coaches across Michigan at the ISD/LEA/RESA level to study the essential practices to get Michigan students reading at a proficient level. It is our goal to meet with these Coaches and allow them opportunities to hear from content experts from the field, as well as, network, learn and grow with other ISD Early Literacy Coaches.
The grant is a collaborative effort between the Michigan Department of Education, MAISA, and Gogebic-Ontonagon ISD.
---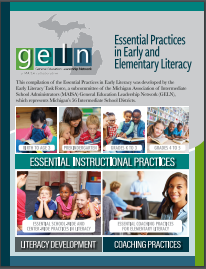 Order Booklets and Materials
A compilation of all Early Literacy Essential Practices in one book (does not include 6th-12th Gr. Essentials). These booklets can be purchased by districts from International Minute Press at (517) 323-7777. Request the "B-5th Grade Essentials Booklet". Books with no tabs are $7.11 per book. Books with tabs are $9.59 per book.
*Feel free to download the document and print in house.
Early Literacy Essentials