Early Literacy Task Force
Looking for more information?
Check out LiteracyEssentials.org for all things regarding the Essential documents (below). There you will find YouTube videos, coaching modules, instructional modules, and more!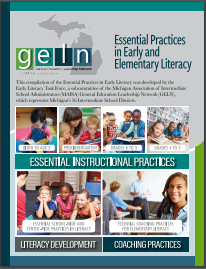 A compilation of all Early Literacy Essential Practices in one book (does not include 6th-12th Gr. Essentials). These booklets can be purchased by districts from International Minute Press at (517) 323-7777 or by emailing lansing-mi@intlminutepress.com. Request the "B-5th Grade Essentials Booklet". Books with no tabs are $7.11 per book. Books with tabs are $9.59 per book.
*Feel free to download the document and print in house.
Susan Townsend
Sean LaRosa