Essential School-Wide and Center-Wide Practices in Literacy
Document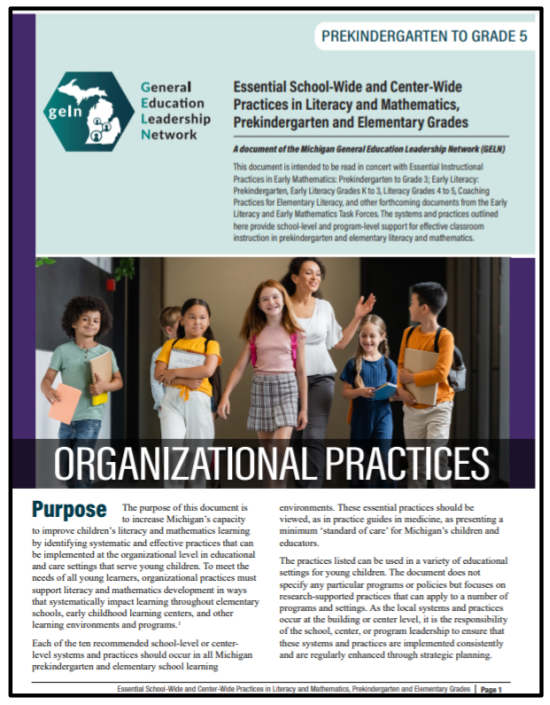 The purpose of system-wide and center-wide literacy practices is to improve children's literacy in Michigan. These systematic and effective practices implemented at the organizational level in education and care settings help children become proficient in reading.
To meet the needs of all young learners in Michigan, organizational practices must support literacy development in ways that systematically impact learning in elementary schools, early childhood learning centers, and other literacy programs and environments.
Expert research suggests that each of the 10 practices outlined in this document can have a positive impact on literacy development. The use of these practices in every Michigan classroom every day can make a measurable, positive difference in the state's literacy achievement.
This document is intended to be read in concert with Essential Instructional Practices in Early Literacy, Prekindergarten and Essential Instructional Practices in Early Literacy, Grades K to 3. Implementation of organizational practices is dependent on a thorough understanding of implementation at grade levels.
Identify Focus Areas in the School-wide and Center-wide Literacy Essentials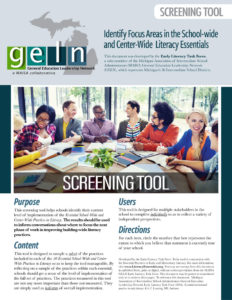 This screening tool helps schools identify their current level of implementation of the Essential School-Wide and Center-Wide Practices in Literacy.
The results should be used to inform conversations about where to focus the next phase of work on improving building-wide literacy practices.