Latest News
Communication: MSPRA Communication Toolkit
COVID-19 Resources
MASB Guidance: FAQs: Holding School Board Meetings During COVID-19 Pandemic
June 10, 2020
Memorandum: Free COVID-19 Testing for Employees
June 30, 2020
EO 2020-142 (COVID-19) Provision of preK–12 education for the 2020–2021 school year
Statewide Coordination of Continuity of Learning Document
May 4, 2020
May Child & Adult Care Food Program (CACFP) Newsletter
Provider rate update
Child care relief fund, apply now!
Michigan Receives Approval for Nearly $390 Million in Federal Education Funding
April 23, 2020
April 8, 2020
April 2, 2020

April 1, 2020

March 31, 2020

March 30, 2020
March 28, 2020
March 25, 2020
March 24, 2020
March 23, 2020
March 19, 2020
Ongoing
Help Me Grow is here to support the Essential Workforce by assisting you in finding childcare at this time
ISDs have been asked to complete this survey to let Help Me Grow Michigan know what childcare centers/facilities are open during COVID-19
Even as schools and libraries are closed for the health and safety of our communities, the FCC reminds us that the WiFi signal may be left on and utilized by the patrons and community members on school and library property. Please consider leaving your login requirements posted on the building doors
Helping young kids through the Coronavirus
Student & Staff Connectivity Findings
MDE COVID-19 Education Resources
Education Resources

ISD Made Resources
Ottawa Area ISD
Remote Learning Framework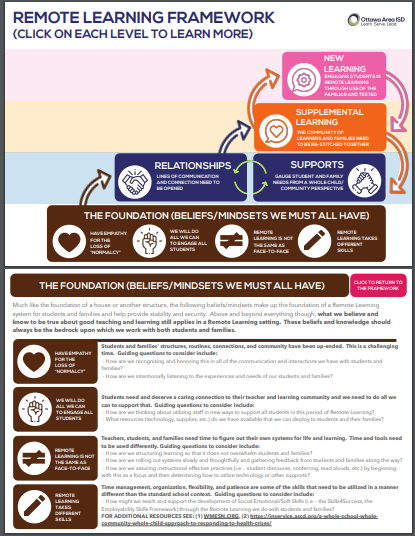 OAISD has offered this document to be used by any ISD, they have offered that you can remove their logo when using the document. Thanks OAISD!
Newaygo County RESA
Washtenaw ISD
Oakland Schools
MASA Resource Center for Educators